MVM: The Fillmore Collection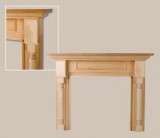 Our newest collection offers the same size and specie flexibility that you expect from The Mount Vernon Mantel Company™. Available with full or split column, the turned column detail and deeper shelf create a more ornate and substantial room focus. This collection is the perfect choice for those looking to balance a larger room.
This website features a mere sampling of our most popular items. We have virtually limitless ability to custom produce any wood mantel, shelf, or fireplace cabinet to any specification.

Click to view or download catalog PDF.
(You may use the Mantel Dimensions Calculator in the right side bar to determine key dimensions based on your opening size.)

Click to view or download installation instructions.